Faculty & Staff
Faculty & Staff
Catalin Toma, MD
Assistant Professor of Medicine, Cardiac Catheterization Laboratory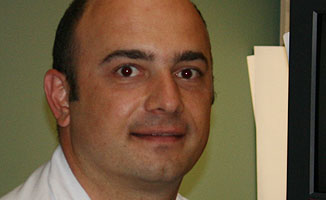 UPMC Presbyterian, Suite A-333
412.627.0211

Peer Reviewed Articles
1. Toma C, Wagner WR, Bowry S, Schwartz A, Villanueva FS. Fate of culture-expanded mesenchymal stem cells in the microvasculature: in vivo observations of cell kinetics. Circ Res 2009;104(3):398-402.
2. Patel AN, Spadaccio C, Kuzman M, Park E, Fischer DW, Stice SL, Mullangi C, Toma C. Improved cell survival in infarcted myocardium using a novel combination transmyocardial laser and cell delivery system. Cell Transplant 2007; 16(9):899-905.
3. Toma C, Letts DP, Tanabe M, Gorcsan J 3rd, Counihan JP. Positive effect of darbepoetin on peri-infarction remodeling in a porcine model of myocardial ischemia-reperfusion. J Mol Cell Cardiol 2007; 43(2):130-6.
4. Cahill KS, Toma C, Pittenger MF, Kessler PD, Byrne BJ. Cell therapy in the heart: cell production, transplantation, and applications. Methods Mol Biol 2003:219:73-81.
5. Toma C, Pittenger MF, Cahill KS, Byrne BJ, Kessler PD. Human mesenchymal stem cells differentiate to a cardiomyocyte phenotype in the adult murine heart. Circulation 2002;105(1):93-8.
6. Pauly DF, Fraites TJ, Toma C, Bayes HS, Huie ML, Hirschorn R, Plotz PH, Raben N, Kessler PD, Byrne BJ. Intercellular transfer of the virally derived precursor form of acid alpha-glucosidase corrects the enzyme deficiency in inherited cardioskeletal myopathy Pompe disease. Hum Gene Ther 2001;12(5):527-38.
7. Zanetti A, Grata M, Etling E, Panday R, Villanueva FS, Toma C. Suspension-expansion of bone marrow results in small mesenchymal stem cells exhibiting increased transpulmonary passage following intravenous administration. Tissue Eng Part C Methods 2015;21(7):683-92. PMID: 25567723.
Patents
Toma C, Villanueva FS, Wagner WR, Lee JS, Wang J, Chen X, Fischer A.  Directed cell-based therapy using microbubble tagged cells. US Patent 8,460,269 issued June 11, 2013.